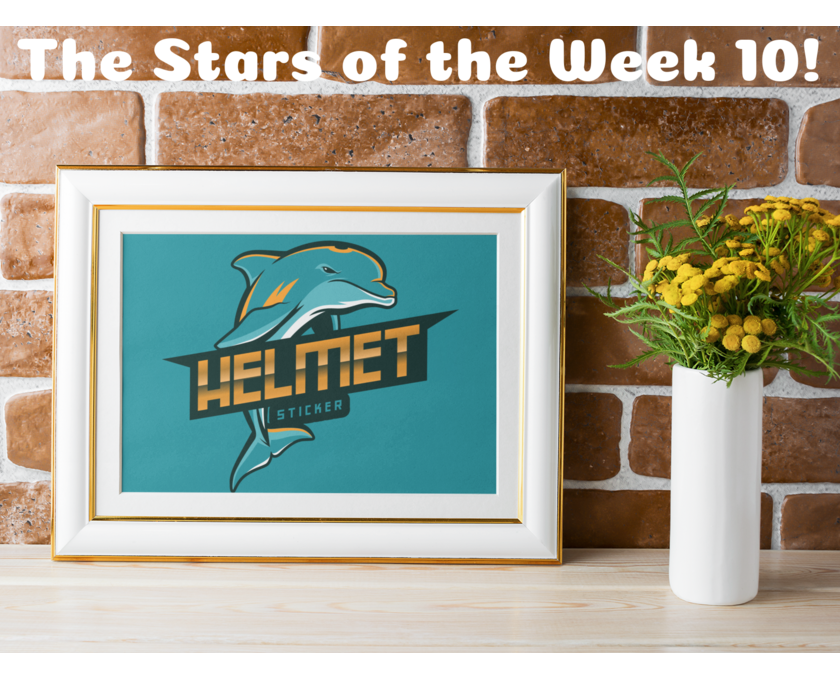 Helmet Stickers Week 10 Dolphins
It is time for Dolphins Thirsty to give out helmet stickers for week 10! Let us know if we missed anyone or gave out one too freely!
Helmet Stickers Winners for Dolphins in Week 10!
Yes, Tua Tagovailoa gets a third straight one! Once again Tua avoided the turnover while putting up impressive numbers in the Miami Dolphins win over the Cleveland Browns. Miami's quarterback tossed three touchdown passes to go along with 285 yards. He also spread the wealth around hitting several different targets.
Tyreek Hill adds to his collection of helmet stickers as well in week 10. Yes, he did not put up the huge yardage numbers that he has spoiled Dolfans with this year. Yet, he did get a TD reception. On a fun note, he was also seen running downfield as he waved Jeff Wilson into the endzone.
Speaking of Wilson, he rushed for over 100 yards and he averaged 7 yards per carry. He also scored the above-mentioned TD to put the game on ice.
Alec Ingold has a couple of stickers on his helmet now. Ingold got a touchdown on one of Tua's TD throws. He took the short pass and worked his way to the TD by diving the final few feet into the endzone. The fullback also did a good job of blocking in this victory for the Dolphins.
Trent Sherfield gets rewarded for making a nice toe drag swag in the endzone on a great pass from Tua. Sherfield's catch was in the corner of the endzone, he was running out of open space but managed to catch the ball as got both feet down. I know that Sherfield got nailed with a taunting penalty, but it was kind of a lame call by the referees in my view.
Raheem Mostert is on the list of helmet stickers winners as he rushed for a touchdown as well as caught some passes. Any touchdown scorer deserves a sticker on the helmet!
The Defense
Miami's defense took some criticism the past couple of weeks as they gave up big yardage as well as points. But, in this game, they played well after the Browns took the opening drive for a touchdown. Now, it is time to give some helmet stickers to the defensive side of the ball.
Yes, Christian Wilkins got called for a question roughing the QB penalty. But, he was all hustle in this game. Wilkins got a sack to go along with 3 tackles and an assist. His presence was felt all game even if he did not show up on a stat line on every snap that he made an impact.
The edge rushers got in the helmet stickers as well. Melvin Ingram got a sack to go along with half-sacks for Jaelan Phillips and Bradley Chubb. These three all get rewarded in week 10.
Zach Sieler makes an impact every week it seems. In this week 10 game, he earned a helmet sticker for forcing a fumble that got the defense going for the rest of the game.
Defensive backs Justin Bethel and Kader Kohou may not have gotten any interceptions. Yet, they each had some passes defended as they had tight coverage throughout the game. Bethel and Kohou were not expected to have much impact this season in the secondary, but injuries to others provided them a chance to show what they can do. They have stepped up! They both get helmet stickers for their week 1o performances!
Make sure to like/follow Dolphins Thirsty on Facebook. We love interacting with other Dolfans.
Tags:
helmet stickers
Top Stories