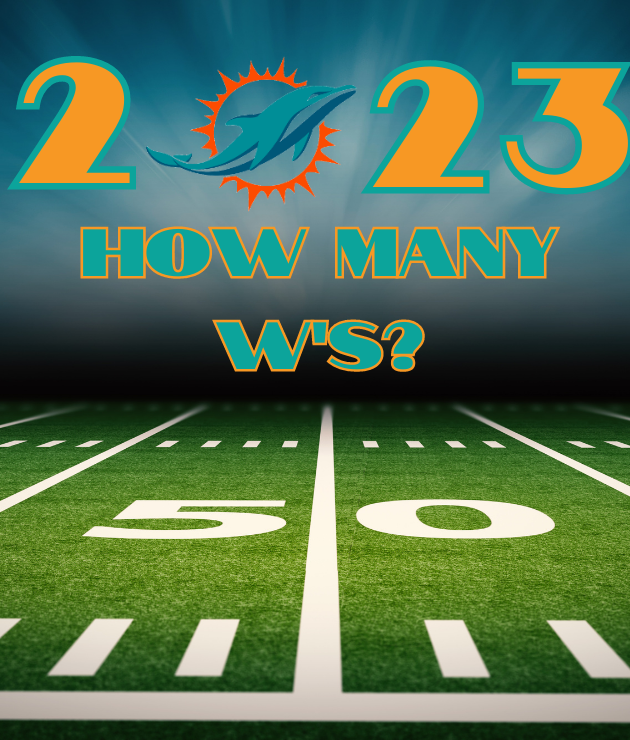 Prediction on The Fins Pre-Camp
The rookies have reported to the Miami Dolphins training camp. The veterans are set to come in on 07/25/2023. Now, it is time for a prediction prior to the camp opening. Things might change before my final prediction prior to week 1.
Miami Dolphins Predictions
I feel the floor for Miami is a 10-win season. Anything under double digits wins will be disappointing especially if there is no playoff appearance for the Dolphins. I am predicting an 11-6 regular season record for Miami. I'm not sure where that will fall within the tough AFC East.
Last year, the Buffalo Bills finished with a 13 and 3 record (The Bengals game was not played) which was the best record in the division. I will wait until my prediction ahead of week one to make the division winner pick. Have to see how things play out on the injury front and other issues that might arise before September 10, 2023, rolls around.
Not Eyeballing Schedule Picks
I know we all love to look at the schedule to make our picks before the first football is even placed on the tee. I do it too! In fact, I will be watching a show tomorrow on the Fins Talk Sports Network that airs live at 12 PM (EST)! I can't wait! But, for this early prediction, I'm just throwing out my prediction of 11 wins based on a better roster.
I know all of the opponents so maybe that is in the back of my mind. Yet, I am basing this prediction more on that the Dolphins won nine games last year, I feel they have improved this off-season.
Better D
The prediction of 11 wins is based more on what I think will be an improved defense in 2023. Yes, the Dolphins added a big name in Jalen Ramsey. However, the acquisition of Ramsey is not my favorite Fins move (I do like it!). I'm really looking forward to seeing what the hiring of Vic Fangio will bring to the defense.
Fangio has a solid track record of improving a team's defense when he takes over as a coordinator.  Yes, at the end of the day, it will be the players that decide the game on the field. But, it helps to have a veteran coach to lead them as they game plan during the week. I also know Fangio will be better at making in-game adjustments once he says what the opposing offense is trying to do than Josh Boyer did during his tenure!
Tua Time
Any talk about predictions for the 2023 Miami Dolphins would not be complete without bringing up Tua Tagovailoa. As a Miami fan, I will always support the players in aqua and orange. Tua has done everything asked him in his time in South Florida. He works his butt off to improve plus he seems like a great dude. I do not understand how any that calls themselves a Dolphins fan can not be opening rooting for this left-hand throwing QB.
With that said, this is a NO excuse season for our quarterback. He must improve in some areas of his game but he must remain available above all else. This will be his fourth season with the Dolphins. Yet, this will be the first time he has been in the same offensive systems in back-to-back seasons.
Injuries are part of any team's story, but Tua needs to show that he can be ready to go each week. Injuries will become part of the equation when determining if Tua is the long-term answer at the most important position.
The time is now!
My Video Take:
Top Stories