Josh Downs 2023 NFL Draft
This 2023 NFL Draft scouting report on Josh Downs is from Justin Caballero of Digging in the Trenches. Check below this draft profile to see links to more prospects.
2023 NFL Draft: Josh Downs, WR, UNC
Caballero describes Josh Downs as being very quick with really good hands. This 2023 NFL Draft prospect out of UNC has the dog factor. Downs goes all out to make plays during the game. He does anything he can to help the team win. Though he is smaller than some WR prospects, he gives solid effort in blocking downfield.
But, it is Downs receiving skills that make him an intriguing player. Runs excellent routes by using quick movements anywhere on the field but really pops in the red zone. Explodes in and out of his breaks. Has above average speed but is even quicker than fast. He might not break many tackles. Yet, still gets yards after the catch by using his quickness.
Josh Downs gets the job done in a lot of areas with the ball in his hands. He can be used as a deep decoy as well. Caballero says that Downs has elite change-of-direction skills. A natural skill of getting separation at the line of scrimmage and can leave defenders grasping at air. As mentioned, Josh is not the biggest of the WR prospects but has room to add muscle at the next level. Fun to watch.
By the Numbers
Receiving & Rushing Table
Receiving
Rushing
Scrimmage
Year
School
Conf
Class
Pos
G
Rec
Yds
Avg
TD
Att
Yds
Avg
TD
Plays
Yds
Avg
TD
*2020
North Carolina
ACC
FR
WR
4
7
119
17.0
3
1
-3
-3.0
0
8
116
14.5
3
*2021
North Carolina
ACC
SO
WR
13
101
1335
13.2
8
0
0
0
101
1335
13.2
8
*2022
North Carolina
ACC
JR
WR
11
94
1029
10.9
11
0
0
0
94
1029
10.9
11
Career
North Carolina
202
2483
12.3
22
1
-3
-3.0
0
203
2480
12.2
22
The Prospect Sheet
Josh Downs attended North Gwinnett High School in Suwanee, Georgia. He had several offers aside from his choice of UNC. Tennessee, Temple, Oregon, Penn State, and others had an interest in this talented WR. (Source: 247sports.com)
Downs will partake in the NFL Scouting Combine.
Draft Projection: 1st or 2nd round
Overall, Caballero says that Downs will be a productive receiving threat in the right scheme. 
Strengths: Josh Down
Quick
Hands
Route running
A legitimate threat when he has the ball
Areas of Improvement/Concern
Size
Better suited for the slot in a scheme fit
Caballero's unedited notes while scouting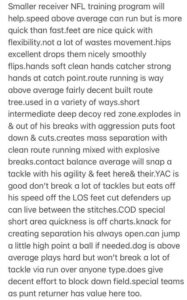 More 2023 NFL Draft content
Ricky Stromberg 2023 NFL Draft
Broderick Jones 2023 NFL Draft
Tags:
2023 NFL Draft
,
WR
Top Stories