Miami Dolphins Mock Drafts
Miami Dolphins mock drafts from the crew at Fins Talk Sports Network (FTSN). I co-host Real Talk Fins Talk every Tuesday night on FTSN at 7:30 PM (EST). These mocks were made on the Pro Football Network site.
FTSN with Miami Dolphins Mock Drafts
Bobby Melendez Owner/Producer of FTSN
Yes, Bobby had to pay up to move up by trading away the Miami Dolphins' first-round pick next year. Jahmyr Gibbs is a favorite target of his and does not feel Gibbs will slip into the second round. He did manage some trade backs with the later pick to acquire more picks. The pick of Matthew Bergeron was a great value that also helps fill a big need.
Dave Steger: Co-Host of Huddle Up and Wait on FTSN
Dave like Bobby traded up for the services of Gibbs. But, he was able to avoid giving up a future first-round pick by staying in the second round. The pick of Sam Laporta (TE) was another solid move in his Miami Dolphins mock draft.
Michael Vogel: Co-Host of the Fins Bandwagon on FTSN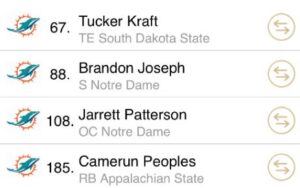 As you can see, Michael was the most active in his Miami Dolphins mock draft. Instead of trading up, he decided to move down in the draft to acquire more picks. He was able to land Tucker Kraft (TE) which fills a team need but is also a great value at that point in the draft. He picked some really good value picks throughout the entire draft. Mike even picked a QB in the 7th round to follow up on last year's 7th round pick of Skylar Thompson.
Rob Mosley: Owner of Dolphins Thirsty/C0-Host of Real Talk Fins Talk on FTSN
I moved down two spots to get pick #53 and pick #103, but I did have to give up pick #197 as well. I felt like the board fell nicely in this Miami Dolphins mock draft. My intention was to draft John Michael Schmitz with pick 51 but gambled that he would still be on the board at 53. It worked out. I do not know if Laporta will fall to #84 but way too good to pass up. I wanted a pick in the 100 to 125 range with Chase Brown in mind.
More NFL Draft Content:
Darnell Washington 2023 NFL Draft
Tags:
2023 NFL Draft
Top Stories